The 2019 JICA Training Program for Japanese Descendants (December 1 – December 26, 2019) was successfully completed.
Five participants, three from Argentina and two from Brazil, were accepted to the program. They arrived in Yokohama, Japan on December 1 for an orientation week which included basic Japanese language training to acclimatize them to Japan. Following that, on December 8, they shifted to Takamatsu, Japan for the main part of the training program organized by the Faculty of Agriculture and the International Office of Kagawa University.
Between December 9 and December 25, they studied about how to make a successful food business in their home countries. Studies included specialized lectures on food science, food safety, business planning and marketing skills, the role of fusion food in the globalized world, company visits to study udon making, restaurant planning and business models that have been successful and specialized cooking skills.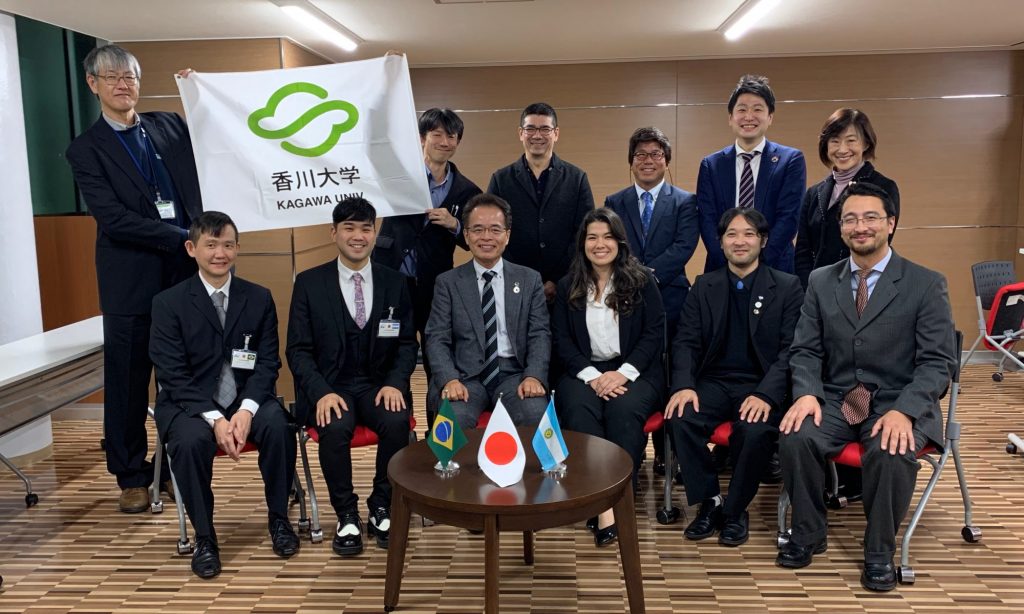 2019年度JICA日系社会研修(12月1日〜12月26日)を成功裡に終了することができました。
アルゼンチンから3名、ブラジルから2名の計5名の研修員が本プログラムにより受け入れられました。12月1日に横浜に到着後、日本に順応するため、日本語の基礎を含む1週間のオリエンテーションを受けました。引き続き、農学部及びインターナショナルオフィスが企画・実施する研修の主要部分を受講するため、12月8日に高松に移動しました。
12月9日から12月25日に渡り、研修員は自国において食品ビジネスをいかに成功させるかを学びました。内容には、食品科学、食の安全、ビジネスの計画やマーケティングの技法、グローバル化された世界におけるフュージョン料理の役割、うどん作り、成功しているレストラン経営及びビジネスモデルや専門的な調理の技法が含まれていました。